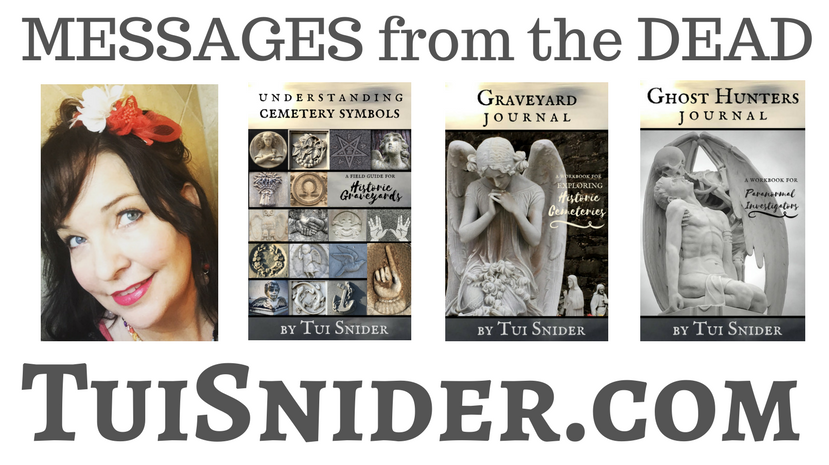 Today I'm pleased to welcome cemetery historian Tui Snider.
Tui Snider is a writer, speaker, photographer, and musician specializing in offbeat sites, overlooked history, cemetery symbolism, and haunted lore. Her award-winning books include Paranormal Texas, The Lynching of the Santa Claus Bank Robber, Unexpected Texas, and Understanding Cemetery Symbols.
Thanks for stopping by, Tui! As readers of this blog know, I have a lifelong fascination with ghostlit. And, as an avid reader of ghostlit, I especially love scenes that take place in cemeteries. Chalk it up to my early addiction to Dark Shadows. I can still hear that theme music.
DA: At a rough guess, Tui, how many cemeteries do you think you've visited? Do you have a favorite?
TS: That's a really tough question! I don't have a precise number, but it is definitely in the hundreds! I will have a better idea in the future, however, because I've started keeping a journal specifically to keep track of the cemeteries I visit.
It's easy to get details mixed up between different burial grounds. As time passes, you forget which graveyard had that gorgeous angel or lovely picnic area, etc. Some graveyards here in Texas have locked gates with a key hidden nearby. I sometimes forget where the keys are! It's helpful to write that stuff down.
That's why I created a notebook for myself, and then I thought, hey, other people might like this, too! So I wound up making a workbook for taphophiles called Graveyard Journal. It has space to keep notes for up to 50 historic graveyards. Some folks may never fill theirs up, but I'm sure I'll use several of these journals! (This workbook hasn't quite gone on sale, yet, but it will soon.)
As for a favorite graveyard, that's a tough question! Here in Texas, I am quite fond of Thurber Cemetery, Oakwood Cemetery's Saints & Sinners Tour, and the Lost Cemetery of Infants.
DA: The Lost Cemetery of Infants. That one intrigued me, so I read your post. Fascinating history.
Can you recall the first cemetery visit that left a strong impression on you?
TS: Oh, yeah! When I was a little kid, my Girl Scout troop held meetings across the street from historic Westview Cemetery in Blacksburg, Virginia. My friends and I played in that graveyard all the time. We'd make up outrageous stories for the inhabitants of Westview, pretending that they were vampires and witches. It was a lot of fun!
All that playtime in Westview Cemetery paid off in an unexpected way. One day, the Girl Scout meeting was cancelled. My friend and I didn't realize it, though, so we walked over to the church, as usual.
Since no one else showed up, we decided to leave. Just then, a creepy janitor walked in. He told us the Girl Scout meeting was in a different room. Once we got there, however, he locked us inside! Long story short, we escaped through a window and started walking home.  
We had barely crossed the street when the creepy janitor pulled up beside us in a car and commanded for us to get in "or else." We screamed and took off running into Westview Cemetery.
Creepy janitor had to get out of his car to chase after us, but since he didn't know the area as well as we did, he kept tripping over headstones. I remember him yelling, "Girls! Girls! Come back here!" followed by "ouch" and a series of expletives.
We were eventually able to ditch him by taking a path through the woods. If we hadn't run through that cemetery, however, I'm sure he would have caught up to us. *shudder*
Unfortunately, our parents did not believe us when we told them what happened! This was well before Amber Alerts had been created. Public awareness of child abduction was not what it is today. Back then, our parents simply thought we were lying and we both got in trouble.
It was such a scary experience! And from that moment on, I became much more vigilant. Even today, I always check for exits when I go to a new place, and I like to be seated with my back to the wall. And while I enjoy wearing cute shoes, I only wear ones I could take off running in, if need be!
DA: Yikes! This sounds like the opening scene of a slasher movie–with or without a ghost. Plus the irony of knowing your way around the resting place of the dead kept you alive. So glad you escaped!
As a child, did you have a particular interest in history? In hats? (I had to throw that one in.)
TS: While I now consider myself a history buff, I hated the subject in school. It seemed like all we did was learn about wars and memorize battle dates. Boring!
But even as a kid, when it came time to write a history report, I managed to dig up quirky facts, like how Paul Revere was a talented silversmith who made a special collar for his beloved pet squirrel, or how Benjamin Franklin wrote an essay on farting, invented a musical instrument that made people go insane, and believed in the healing power of taking "moon baths" in the nude.
As for hats? Oh, yeah! The first time I remember wearing a hat and thinking it was cool, I was around 4-years-old. In fact, one of my mottos is: You can't always have a good hair day, but you can always have a good hat day!
DA: Have you come across a gravestone that made you laugh out loud or was so weirdly quirky you could never forget it?
TS:  Several, actually! Some of my favorites include a 5-foot-tall black granite calculator-shaped monument, Douglas the Confederate Camel, the grave marker for a famous jazz-era monkey that's tucked in the patio of an Italian restaurant, and, of course, the gravesite of the alleged space alien that crashed in Texas in 1897.
I love quirky cemetery tales and have collected enough of them to fill a book. In fact, while I don't have a title for it yet, I plan to release a book filled with my favorite historic graveyard monuments and the stories behind them sometime very soon! (If any of your readers would like to know more about my speaking engagements and book projects, I invite them to sign up for my twice-monthly newsletter by clicking here. As a thank you, new subscribers get a mini-guide to cemetery symbols.)
DA: Have you ever been especially stumped by a cemetery symbol? Were you able to resolve the mystery?
TS: Oh, yes! All the time. This is a huge subject. People have been dying for an awfully long time, after all. Seriously, though, that is one reason it took me so long to publish this book. I finally had to realize that it's going to be a lifelong learning process and that I should just go ahead and publish what I know now.
It's especially tough to know the acronyms and symbols for every single fraternal organization and club. At one time, America had over 2000 such groups, so I couldn't include all the related symbols into one chapter!
I actually keep a running list of symbols and acronyms that are still a mystery to me. Not knowing everything is part of what keeps this so fresh and fun for me!
DA: What tips do you have for people who want to visit historic graveyards?
TS: I actually have a chapter full of tips and etiquette for exploring historic graveyards in Understanding Cemetery Symbols, but here are a few of the most important things to remember:
While benches and tables are meant to be sat upon, make sure they are sturdy and stable before you do so! Also, it's perfectly acceptable to have a picnic in a graveyard. Remember to steer clear of mourners, however, and do not leave any garbage behind.
Take a camera and a notebook with you to record any interesting headstones, epitaphs, names, and other interesting tidbits you find while you are there. Part of the fun is researching these things once you return home!
Also, if you share historic graveyard photos online, feel free to tag them with #GraveHour and @TuiSnider so I can enjoy them, too! Or if you come across a symbol that you are curious about tag me, as well. If I know what it means, I'll let you know!
One last tip: avoid walking directly across a grave, especially in older cemeteries. Old coffins can disintegrate over time and your weight may be enough to cause the grave to cave in. I recently gave a talk on Understanding Cemetery Symbols to a convention for grave monument builders and several of them told me tales of getting twisted ankles this way!
So glad you could share some of your cemetery stories, Tui. Readers, please check out the upcoming release of Tui's 5th book. Titled Understanding Cemetery Symbols, this book is a guide to the forgotten meaning of symbols and acronyms our ancestors left on their headstones. Preorder sales are going so well that Understanding Cemetery Symbols has already become an Amazon best seller!
You can find Tui here on Twitter and here on Facebook. She would love to connect with you.
What about you, readers? Any interesting experiences in cemeteries? Please share!