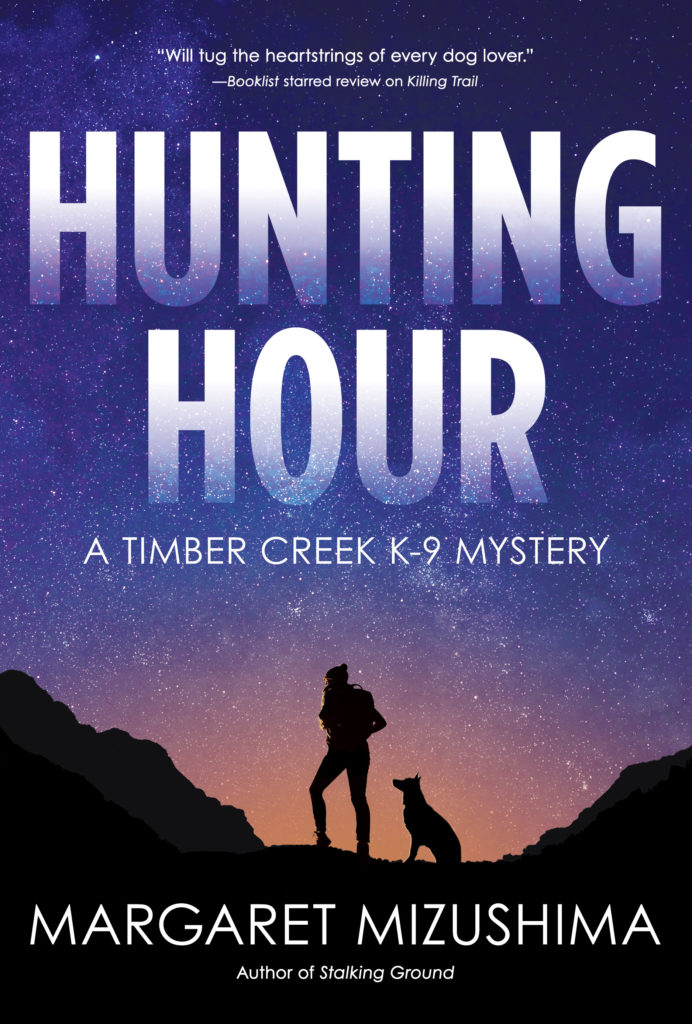 Hunting Hour by Margaret Mizushima
Are you an incurable devotee of K-9 mysteries? Have you already devoured (and loved) Suspect and The Promise by Robert Crais and Blood on the Tracks by Barbara Nickless? Then you can do no better than to add Hunting Hour to your reading list.
Hunting Hour features the lovable, and doggedly persistent Robo, a German Shepherd officer. You will love him as much as you love Maggie and Clyde–those larger-than-life dogs that leap off the page onto your lap and into your heart. When I interviewed the author, she told me Robo is named after a real canine hero. What a wonderful tribute that is! Mizushima has spent many hours working with and caring for dogs, and her knowledge shines through in the pages of this mystery. One great strength of this novel is the author's meticulous layering of police procedure and canine training without slowing the pace of the story.
Hunting Hour can be read as a standalone. I had no trouble following the tangle of emotions Robo's handler Mattie Cobb feels for single dad Cole Walker, but I think it might be best to begin with the first book of the series, Killing Trail, to see how the characters evolve. For instance, Hunting Hour opens with a tense conversation between Mattie and her therapist that touches on an earlier trauma–no doubt revealed in a preceding book.
It is during this therapy session that Mattie and Robo respond to a call about a missing junior high student. Sadly, the missing girl's body is soon discovered on Smoker's Hill. As Mattie and fellow police officers search for clues, another girl goes missing. And this time it is someone close to Mattie and Robo's hearts.
Motives and opportunities abound in this K-9 mystery, and while I guessed the identity of the miscreant halfway through the novel, that did not lessen my enjoyment or racing heartbeat as Hunting Hour reached its exciting climax.
I received a copy of Hunting Hour from Netgalley.