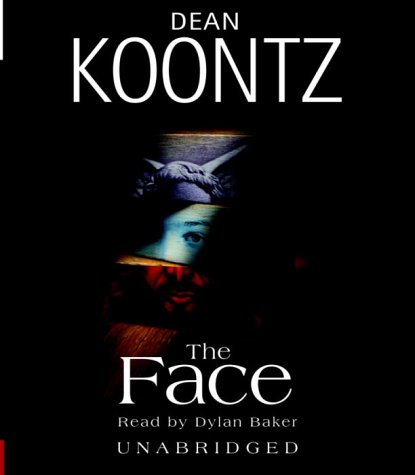 The Face by Dean Koontz
Publisher: Random House Audio
Format: Audio Recording
Source: Pleasanton Library
The Face is my second reviewed novel of The R.I.P. Reading Challenge hosted by The Estella Society.
What it's about: The Face is a poignant but darkly comic novel of suspense.
The primary setting of Koontz's book is the Southern California mansion Palazo Rospo where ten-year-old Aelfric (Fric) resides with a house full of staff but rarely his father, and never his mother. The title The Face refers to Hollywood's pretty boy and biggest star, Channing Manheim. Fric calls him Ghost Dad because he is almost never at home despite the ostentatious custom-built Palazo Rospo he commissioned.
The book opens with the arrival of an apple, split in half and sewn together with black thread, inside of which resides an eye. This is just one of many ominous packages Ethan Truman, head of security for Manheim Channing, has received that presage harm to his employer or family. With the help of Hazard, Ethan's ex-partner on the police force, Ethan must track down the source of these threatening messages. He senses that time is running out. He's right. For something wicked this way comes in the form of one anarchist villain Corky Laputa who favors yellow rain slickers and distributes chaos wherever he goes—poisoned candy to kids, cyanide-laced biscuits to family dogs, hate-filled literature to religious groups. The Manheim mansion where he can wreak death and mayhem is Corky's ultimate destination.
Fric is wise beyond his years, painfully so, a poor little rich boy subjected to scary, temperamental chefs like Mr. Hachette and kooky tutors such as Ms. Dowd who claims "books were relics" and that the "future would be shaped by images" and memes. This brings up a theme that weaves throughout the book—the author's disdain for postmodernism and love of traditional literature. Good people like Ethan and Fric read "real" books (Lord Jim, The Wind in the Willows). Or good Professor Dalton who believes language has meaning and admires Mark Twain and T.S. Eliot. The villain, Professor Corky Laputa, teaches deconstructionism, that words have no inherent meaning. Having studied deconstructionism in my graduate program, I got a kick out of seeing the concept explored in a horror novel.
Fortunately for Fric and Ethan, a reprobate but repentant ghost does what he can to warn and protect. He places cryptic phone calls on Fric's private line, advising Fric to find a hiding spot on the estate because of impending disaster, and passes objects through mirrors, all of which terrify Fric to the point of silence. The ghost also manages to prevent Ethan's death on a number of occasions. Now it's up to Ethan and Fric to accept the unexplainable, interpret the ghost's clues and finally heed the warnings.
What I thought: First off, I must tell you that if it is at all possible, please go for the audio version. This is one of those books that comes alive through voice, and the narrator Dylan Baker does a superb job. Baker's stunning narration is especially important as The Face follows the viewpoints of four primary characters as well as other minor characters. One of the primary characters, ten-year-old Aelfric, possesses a phone with a distinctive, somewhat eerie, ring tone that Dylan Baker narrates in pitch perfect style every time.
Author Koontz knows how to deliver suspense and tension through his unique style and cliffhanger chapter endings. Another of Koontz's strengths is his ability to paint character portraits with a few deft and piercing strokes. Koontz explains that Channing Manheim's "[i]ntellectual limitations denied him an awareness that other people had more than a single script page of backstory, and that their character arcs were too complex to be portrayed in ninety eight minutes" (10). Ouch. Fric's mother fares even worse; Fric refers to her as Nominal Mom for the amount of time she has spent in his presence.
I adored Fric—so vulnerable yet so courageous in a way only a child can be when confronting monsters. That the monsters in Fric's case are real, only deepens his appeal. Fric is also a de facto orphan with Ghost Dad and Nominal Mom, and Koontz does a fantastic job of depicting the hurt that Fric tries to hide. Like Fric, Ethan is a wounded soul. Ethan's friends, particularly Hazard, try to protect him. Because of this woundedness, a natural connection develops between Fric and Ethan. Each knows the subtext beneath their playful banter, but each keeps this knowledge to himself. My favorite parts of the novel involve this deepening parent/child love that develops between these two characters—both lost but each reaching out to the other.          
  Some have called the prose overblown, and I don't disagree. The author uses water, for instance, to forecast and escalate tension as the book builds to its climax—rain drizzles, pours, weeps, torrents—you get the idea. But that's fine with me. Unlike some of Koontz's horror novels, The Face was not written in a realistic style. I believe the writing style complements the author's sense of the dramatic as well as his satirical stance. Hollywood actors, fengshei masters, temperamental chefs, dedicated villains, even professors of deconstruction (a literary philosophy in which there is no intrinsic truth, no inherent meaning of words), find themselves deliciously skewered on the sharp pen of Dean Koontz.
Simply put, The Face is wicked fun.