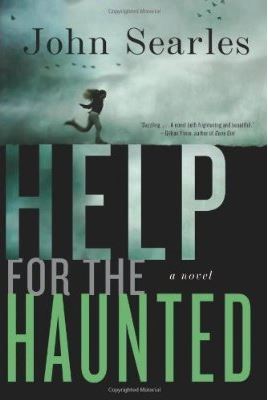 Help for the Haunted by John Searles
Publisher: William Morrow, 368 pages
Format: hardcover
Source: Guest review
The premise of this novel attracted me right away: A married couple counsels people tormented by ghosts. This couple never knows when someone will call with an urgent need for help–often these calls come in the middle of the night. Imagine being the teen daughter of parents such as these. Help for the Haunted is a coming-of-age story with a supernatural twist.
I'm excited today to bring you a guest review from Allegra Johnson. Thank you, Allegra, for sharing your thoughts with us.
From Allegra:
I had some difficulty getting into Help for the Haunted. Though I'd picked it up thinking it was an ordinary murder mystery, I was far more interested in the supernatural elements like Penny, the evil doll (I assume based off of Annabelle, a reportedly possessed Raggedy Ann doll owned by paranormal investigators Ed and Lorraine Warren). In the novel, Sylvie, our main character, is struggling to understand the murder of her parents, exorcists who removed spirits or demons from the possessed through the power of prayer and spiritual humming.
I struggled to get into the book, despite the enticing first chapter, because of Sylvie's older sister, Rose. Upon their parents' murder, Rose becomes Sylvie's caregiver, but she comes off as uncaring, unlovable, and just plain unlikable. I could accept her attitude towards her parents, but wanted her to be more protective and sympathetic towards her younger, more innocent sister. Maybe that's asking too much from a nineteen year old with a difficult past, but nevertheless, it jarred me for the first third of the novel, and I couldn't shake the feeling that Rose was involved in killing her parents. Mystery solved in the third chapter. Why read on, right?
But I did read on and was glad I persevered. I was drawn in by the parents' histories and the supernatural artifacts they collected, especially Penny. I enjoyed reading of Penny's malicious antics: destroying cherished toys, moving of her own volition, and creepily, ending up in a character's bed at night. This is the delicious matter that ghost stories are made of, after all.
Throughout the book, the question of whether the paranormal is real or false comes up frequently. There are many skeptics among the characters. However, one theme within the book rather struck me, that belief creates reality. I found myself pondering that perhaps it didn't matter if any of the events were real or not because the characters earnestly believed–or professed to believe–they were. And further, I was intrigued by the idea that their faith could have caused the manifestations to occur. Perhaps faith is enough to bring ghosts, demons, or maybe even God, into existence. I found the idea interesting that, to some characters, the world would be more scary if ghosts and spirits didn't exist than if they did.
By the end of the book, Sylvie has exorcised her family's personal demons and come to a greater understanding of the events leading up to her parents' deaths. Without wanting to give too much away, I will say that the end feels like it comes a bit out of the left field. I think the author is going for a surprise twist at the end, but it felt a touch more random than shocking. Nevertheless, I'd recommend this book to anyone looking for a late night mystery, full of intrigues and a few chills.
Thank you, Allegra, for such a thoughtful and thought-provoking discussion! Readers, be sure to check out Allegra's other review, The Haunting of Hill House.