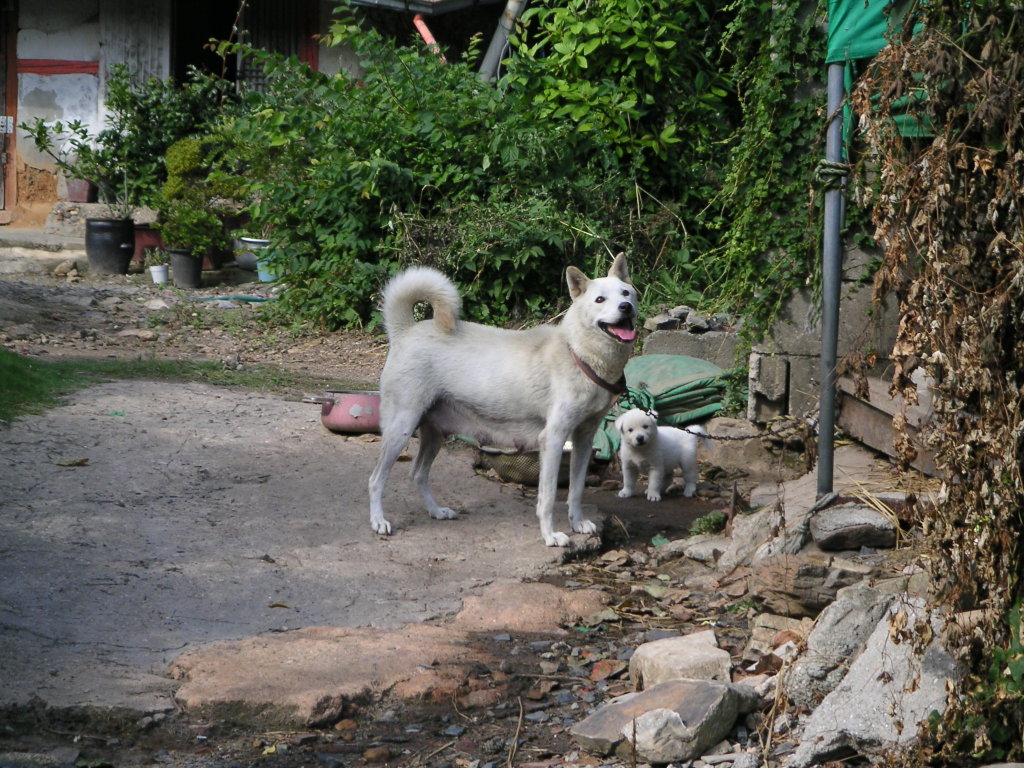 If you love to read about special dogs, cruise this page for dogs in the news.
Most recent tidbits on top. I'll add more as I come across newsworthy dogs. (Of course, all dogs are newsworthy, yes?) The dogs in the above image are from my trip to Jindo, Korea, called Jindo kae. The Jindo kae is considered a national treasure.
22. I'm sad for Excaliber, euthanized dog of Ebola patient. Does it make sense? http://abcn.ws/1BSXFXH by Liz Neporent via Good Morning America
21. Lose your phone on a plane? Sherlock to the rescue–adorable detective dog for KLM Airlines via MSN Video: http://on-msn.com/1qMwl73
20. Spartacus the therapy dog in action. 125 pounds of pure love! Check out the video from MSN: http://on-msn.com/1oy2wq9 
19. Dog rescues girl lost 11 days. Story from Ryan Grenoble via Huffington Post: http://huff.to/1nUn5N1  Great photos!
18. Face recognition for lost dogs? Who would have guessed? http://bit.ly/1y7nWjb  from Sue Manning via UP
17. Ever found something where you least expected? Inside your dog? Story from Kathryn Lewsey via Reveal: http://bit.ly/1oH3KUk 
16. Just can't get enough stories about service dogs. Love this one by Jeffrey Donovan via Today: http://on.today.com/THEQHu 
15. Lovely story. Dog lost in wilderness now found from Madeleine Thomas via Today: http://on.today.com/1v27gYO  True love never dies!
14. You gotta love these shelter dog stories! Here's one to love via Amy Eley/TODAY: http://on.today.com/1m17Ea2 
13. Great program to give mine-sniffing dogs new homes via Jazmine Klein/Dog News http://bit.ly/1ebZCGw . Reminded me of the novel Suspect by Crais.
12. Heartwarming resolution for service dog via Today News: http://on.today.com/1jBfgPa . Congrats, Orlando!
11. Read this sweet rescue dog poem via Susan Gubernat. Happy Service Dog Month! http://www.poetryfoundation.org/features/audioitem/4390 
10. Dogs help stressed U.S. military veterans cope with civilian life http://nbcnews.to/18N7tUf  via @NBCNews I'm in awe of canines!
9. I love happy dog stories! Firefighters save dog from sinkhole in Buffalo, NY http://news.msn.com/us/firefighters-save-dog-from-sinkhole-in-buffalo-ny#tscptmt … #dogsinthenews
8. 'Dog Whisperer' fireman saves pup http://on-msn.com/1dpZu4u  via @msnliving What a lucky dog! Is this in the job description? #dogsinthenews
7. New memorial for service dogs. (I didn't know dogs were left in Vietnam.) Interesting article. http://on-msn.com/1g9wYaP  #dogsinthenews
6. I was ignorant of lack of bullet vests for K-9 officers. Sweet story: http://living.msn.com/family-parenting/pets/off-the-leash-blog-post?post=82f7957b-a876-4d48-9e50-a312f676aec8&_nwpt=1 … #servicedogs
5. Read this sweet rescue dog poem via Susan Gubernat. Happy Service Dog Month! http://www.poetryfoundation.org/features/audioitem/4390 … #servicedog
4. September is National Service Dog Month! Read more: http://goo.gl/wmzrHg  #ServiceDogs #Dogs
3. Dogs help stressed U.S. military veterans cope with civilian life http://nbcnews.to/18N7tUf  via @NBCNews I'm in awe of canines! #dogsinthenews
2. Love this dog/human reunion story: http://abcnews.go.com/US/indiana-woman-reunited-missing-dog-years/story?id=20003499 … #dogsinthenews
1. I love happy dog stories. Usually it's the dog that does the saving! http://on-msn.com/1cG63CF  via @msnNOW