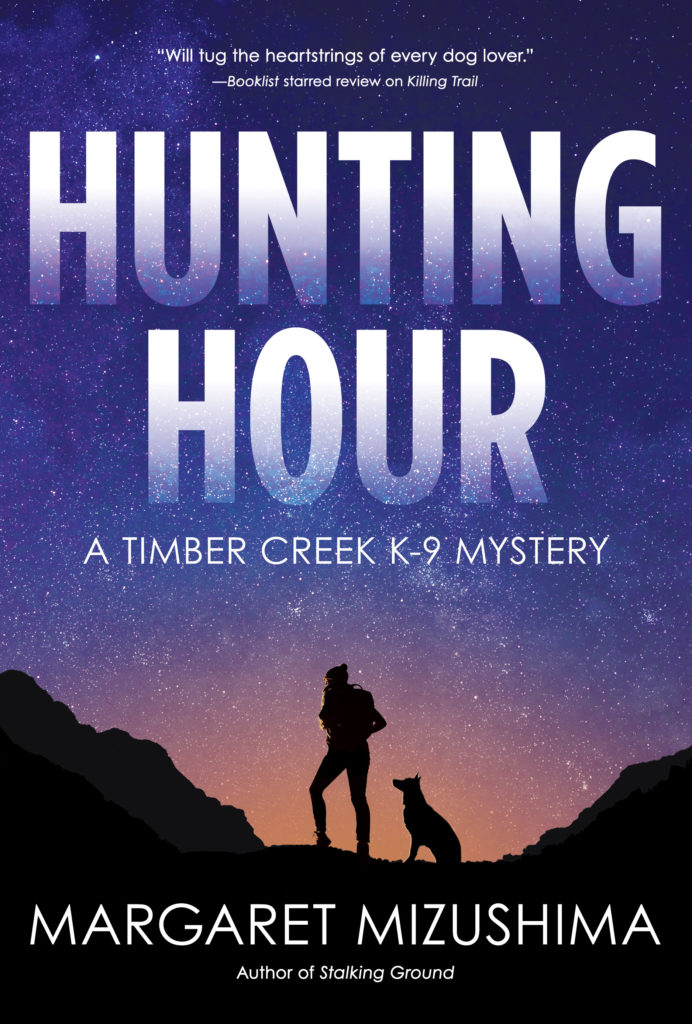 Please join me in welcoming Margaret Mizushima!
I'm excited to spotlight Margaret Mizushima, the author of the Timber Creek mysteries featuring Deputy Mattie Cobb and her K-9 partner Robo. Together they keep the peace in Timber Creek, Colorado. Today we're discussing the upcoming novel Hunting Hour to be released August 8th.
Welcome, Margaret!
Thank you, Deb. I'm happy to be here! I appreciate you hosting me and highlighting Hunting Hour.
DA: You've clearly spent a lot of time around dogs. Robo has an engaging personality (dogonality?) all his own. Is Robo based on any particular dog you've known and loved?
MM: Yes and no. A real dog inspired my Robo character, but I wasn't fortunate enough to get to know him personally (dogonally?). I met his trainer and handler, Beth Gaede, after he died. She let me shadow her while she did search and rescue training and evidence detection training with other dogs near my hometown. Afterwards, we sat and she told me tales of her late partner's prowess, a dog that excelled like none she'd ever had the pleasure of training before or since. I asked if I could borrow his name for the series, and she seemed pleased to agree for me to honor him this way. Beth still acts as a consultant for the books. Robo's traits are a compilation of many dogs that I've known and loved as well as German shepherds I've observed during patrol/protection dog trainings and police dog trials.
DA: Wow, what a special dog. And so cool that your Robo is named after a real live hero!
As the book opens, Mattie is working through some serious trust issues. When her therapist urges her to picture someone she can depend on, Mattie names Stella, whom she describes as "a cross between a mother hen and Godzilla." Do you have plans for the ongoing relationship between Stella and Mattie?
MM: Yes, I plan for Stella to be around for the series. I love her. She's got a hard, brassy shell with marshmallow cream inside. She and Mattie have a lot they can teach each other.
DA: Readers who enjoy learning about canines will gain insight into behavior and genetics. (I recently regaled a friend with trivia concerning a bloodhound's scent receptors that I read about in Hunting Hour. She was impressed.) As a writer, do you find it difficult to balance educating your readers without the dreaded info dump?
MM: I used to be queen of the info dumps—my editors help me a lot with that. I strive to keep the action going in the series, so my goal is to piece in the research a bit at a time.
DA: Well, I can personally attest to the continuing action in Hunting Hour.
Mystery writer Louise Penny was recently interviewed on Sunday Morning. When asked about constructing a male character she could follow over the course of a series, she said to Martha Teichner, "I decided I would create a man I would marry." Single parent Cole Walker seems eminently marriageable. Did you design him with the same criteria in mind?
MM: I saw that wonderful interview! Louise Penny is such a prolific and excellent storyteller! For my series, I wanted a male character who demonstrated room for improvement but who still had oodles of potential and a great heart. Since my husband is a veterinarian, I've had plenty of opportunities to observe a vet at work and understand the vet's life from the inside out, so I decided that Cole Walker would be a vet, too. In the first book of the series, Killing Trail, Cole's wife has left him due to his workaholic nature. (There's more to it than that, but that's highlighted in Hunting Hour.) Cole has a steep learning curve as he tries to learn how to be a single parent to his two daughters while keeping up with his busy veterinary practice. In book two, Stalking Ground, a love interest sparks between Mattie and Cole. Mattie deserves a strong and good man in her life, and Cole has potential to fit the bill. But both have been burned by the opposite sex (in drastically different ways), so they're taking it slow. I sure hope they can work things out, because they seem perfect for each other to me! J
DA: Yes, it was a great interview! I learned many things about Louise Penny's process as a writer and how she approaches research.
During your research process, have you done ride-alongs with K-9 police teams? A canine behaviorist I know sometimes plays a villain during police training sessions. In spite of her background, she finds it pretty terrifying when 90 pounds of German Shepherd rushes at her. Have you observed something similar?
MM: I'm so lucky that my veterinarian husband has K-9 trainers and officers for clients. I've spent many hours shadowing and observing training sessions. I've watched bite-suit and bite-sleeve work in training and police dog competitions. I've also watched narcotics detection training and evidence detection training as well, and my husband and I trained two of our own dogs in search and rescue. I've been married to my veterinarian for 35 years, and during that time, we've shared our home and lives with many, many dogs of various breeds.
DA: Thirty-five years of marriage and a working partnership. Congratulations!
What are you reading now? Do you read other K-9 mysteries…those by Robert Crais or Barbara Nickless, for instance?
MM: Right now I'm reading My Sister's Grave by Robert Dugoni. Robert Crais is one of my favorite authors, and I read his books as soon as I can after their release. I have Barbara's book, Blood on the Tracks, on my lengthy and ever-growing TBR list. I also love outdoor settings in mysteries and enjoy two other Colorado authors, Mark Stevens and his Allison Coil mystery series and Scott Graham and his national parks mysteries. I've read everything by Margaret Coel, and I also like to read Dana Stabenow and her mysteries set in Alaska. Then there are two other favorites, Tana French and Elly Griffiths, who do a great job with setting. I could go on and on! I love to read.
DA: I'm with you there. I'm an incurable reading addict myself. I think My Sister's Grave is on my TBR somewhere. Maybe I'd better move it to a more prominent position.
I'm so glad you could pop over for a chat today, Margaret. Readers, be sure to check out Margaret Mizushima (bio and contact information below) and her newest addition to the Timber Creek series, Hunting Hour, available for pre-order at Amazon and Barnes & Noble. 
Margaret Mizushima is the author of the Timber Creek K-9 mystery series, which includes Killing Trail (2015), an RT Reviewer's Choice Award nominee; Stalking Ground (2016), a Colorado Book Award and International Book Award finalist; and Hunting Hour (2017), an RT Book Reviews Top Pick. She lives in Colorado where she assists her husband with their veterinary practice and Angus cattle herd. She can be found on Facebook/AuthorMargaretMizushima, on Twitter @margmizu, and on her website at www.margaretmizushima.com.