Erin's Book Challenge Check-in
Greetings Readers!
It's time for a check-in on my reading progress for Erin's Book Challenge that runs July 1 to October 31. Here's what I've read so far.
A Monster Calls by Patrick Ness in the "Book into Movie" Category.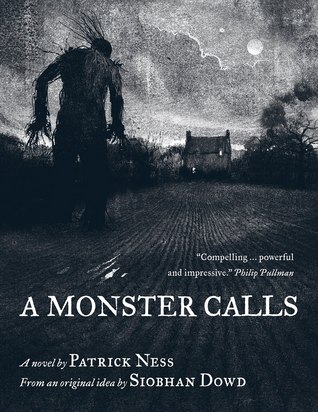 Finished this in one night. A Monster Calls was an incredible and thought-provoking coming of age novel exploring a teen's struggle with his mother's life-threatening illness. I could see this used in a high school psych course. Not for the faint of heart, however.
Here is the trailer for A Monster Calls. What do you think? To me, the monster of the movie trailer looks more like a friendly giant than the menacing id of Ness's novel. I remember when A Bridge to Terabithia was turned into a movie. A similar thing happened. The movie focused on the fantasy creatures and special effects, which were only peripheral aspects of Paterson's soulful coming of age novel.
In the "Blue Cover" category, The Hypnotist's Love Story by Liane Moriarty
I had a wonderful time spending time with this lovelorn hypnotist and her quest for marriage and family, complicated by her new boyfriend's struggles with a stalker. There were laugh out loud moments interspersed with all the joys and setbacks of new love. I even learned some stuff about hypnotism therapy. This protagonist is definitely not the amateur sister-in-law of Matheson's Stir of Echoes.
Moriarty is now one of my favorite authors in the Women's Fiction genre. My other favorite books of hers are What Alice Forgot (very funny) and Big Little Lies (a must-read for every parent and teacher).
What's next for me in Erin's book challenge:
1. Started listening to Tomb of the Golden Bird by Elizabeth Peters
2. Reading during my work break Night Film by Marisha Pessl
3. Reading at bedtime Death Is Now My Neighbor by Colin Dexter
Anyone else doing a book challenge right now? Do tell! I'd love to hear.